HELP US
BEAT THE SACHET!
Sachets are probably the most damaging form of plastic packaging
and cause of much of the ocean's microplastic
We are working with NGOs in India on an alternative suitable for all consumers
1 TRILLION HARD-TO-RECYCLE SACHETS A YEAR, AND RISING
In lower-income countries, consumer goods companies sell liquid products like shampoo and detergent in small plastic sachets to make them more affordable
It's big business: about 1 trillion sachets are made every year
Analysts project this will approach 2 trillion in 10 years
Sachets are almost impossible to recycle
The best available end-of-life option is incineration, but most go to landfill or enter waterways
A PRIMARY SOURCE OF OCEAN MICROPLASTIC
Scientists estimate that eight rivers in Asia are among the top ten sources of plastics pollution in the world's oceans > Source
More than 8 million tonnes of plastic leak into the oceans every year
Over 80% of this is from land-based sources of discarded plastic that has been improperly managed or leaks into the oceans  > Source
Sachets are believed to be the primary cause of this pollution
WE'RE WORKING IN INDIA
TO TEST AN ALTERNATIVE
TO SACHETS
In 2021, we devised a (possible) alternative to sachets
Feasibility studies are complete and pilot operations are set to start in November 2022
We are working with innovative Indian companies and NGOs to bring our vision to life
CARPE is an Indian charity focused on delivering sustainable and inclusive cities, towns, and villages through civic engagement and outreach
It is supported by EcoSattva, a social enterprise headquartered in Aurangabad, Maharashtra, India that leverages partnerships to deliver services and solutions in solid waste management, green cover management and water body restoration
SUPPORT OUR WORK WITH CHARITIES – GET A REFILLABLE WATER BOTTLE
Get your own beautiful, stainless-steel water bottle
Durable and reusable
All proceeds go to support our work with charities in India
HELP OUR INDIAPROJECT BY DOINGYOUR OWN REFILLS
(You save money, prevent plastic waste and 10% of all revenues goes to our India project)
In 2021, we devised a (possible) alternative to sachets
Buy your refills here and 10% of every penny spent goes to our India project
You also save money and help stop plastic waste
It's easy too! Read more
We're preventing single use plastic in different ways
Join us and be part of the change
FROM OUR BLOG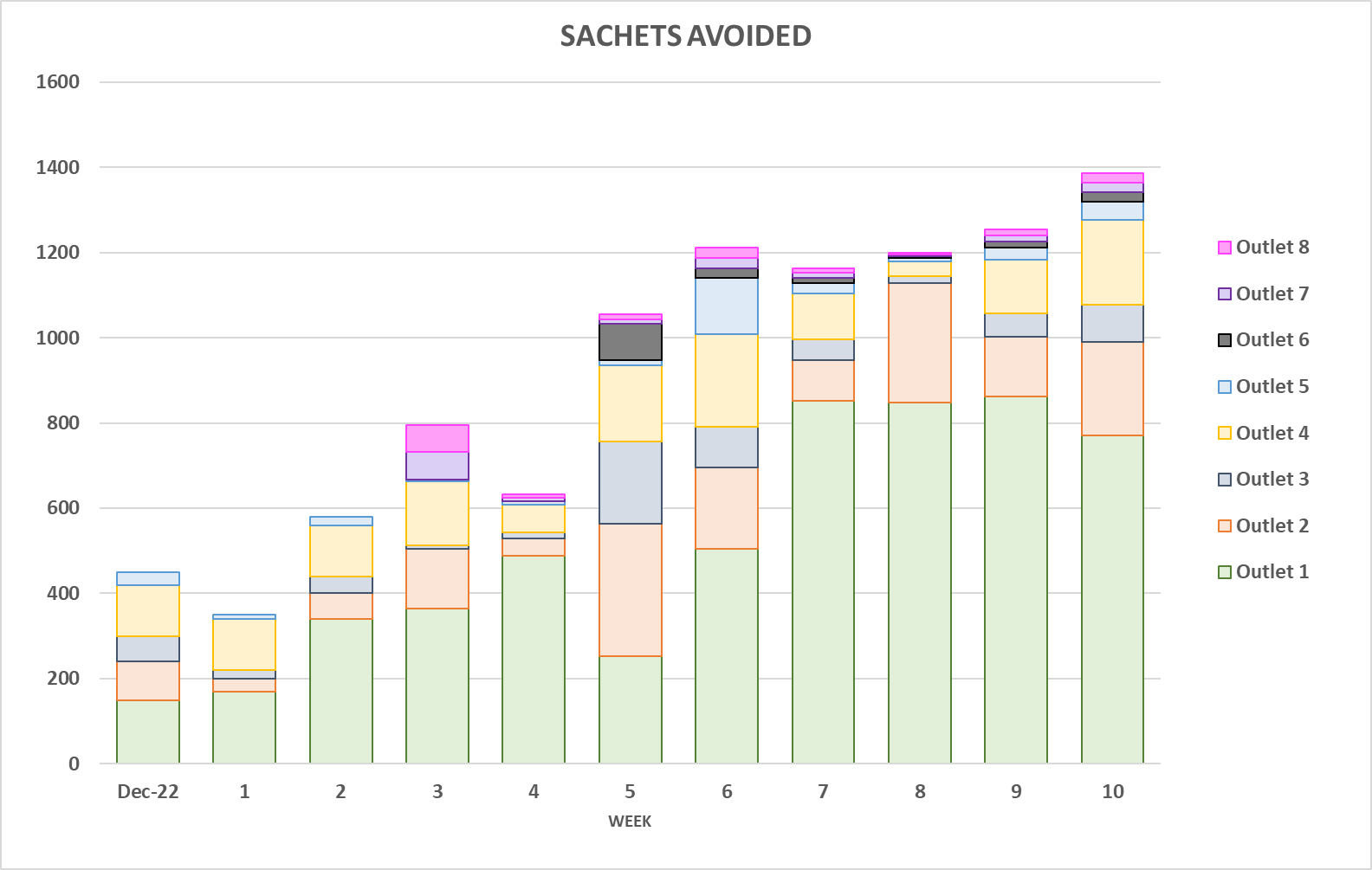 Our pilot has been going six months, the headline news is that our refill alternative to sachets is working.
We've been testing three ways to distribute bulk product and have faced teething problems with all three, but for the most part things have gone extraordinarily well. The solution works well in urban and rural villages and seems especially well suited to low-income household.
After receiving a small free sample, consumers pay the same unit price point as the market leading sachet (Clinic Plus), and bulk distributors purchase from us.more...
Follow our progress, sign-up for our newsletter